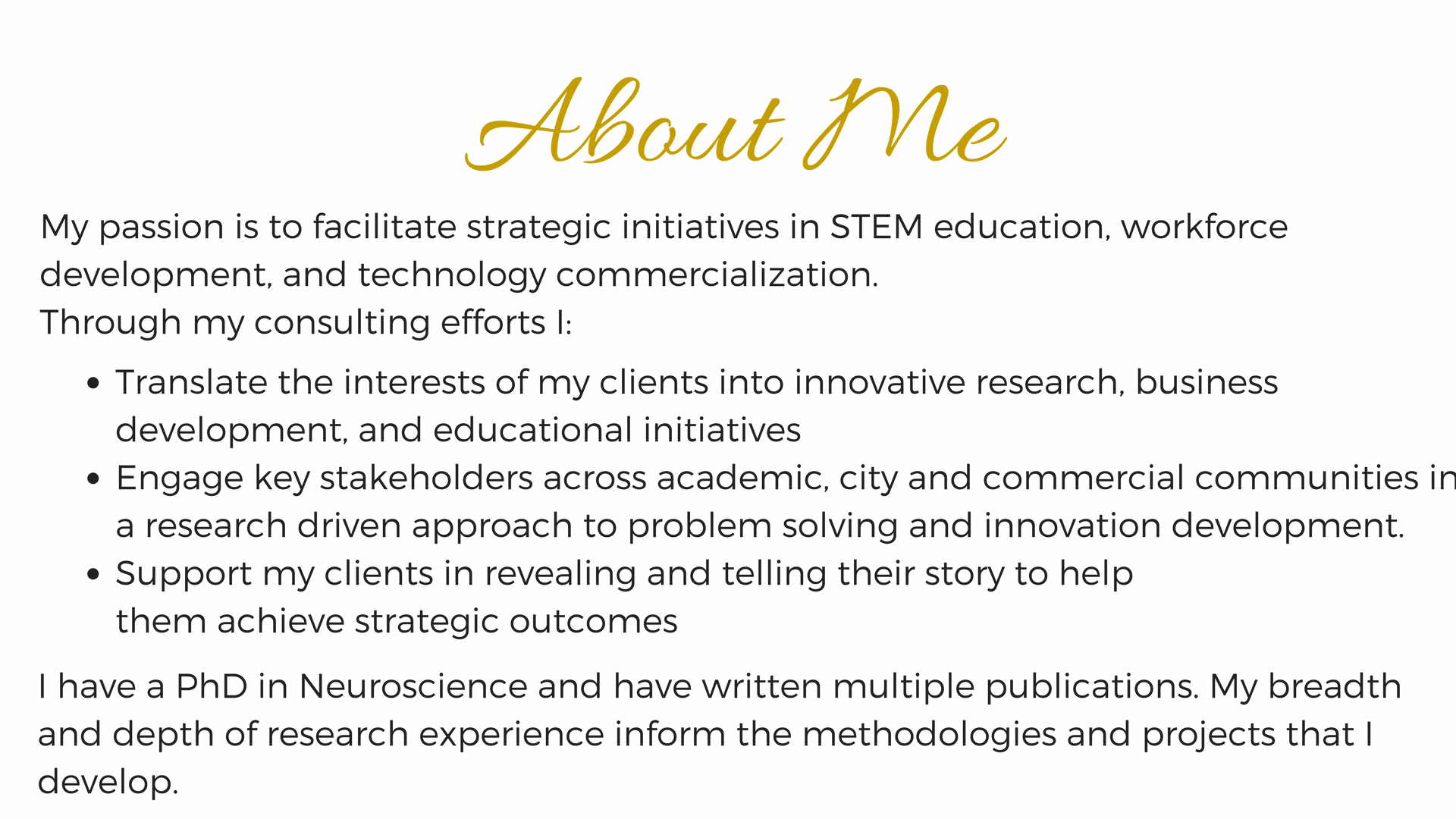 Strategic Solution Development
Teresa utilizes her strengths in connecting individuals and ideas to facilitate a process of problem solving that can meet the needs of any organization.  A non-biased research approach is used to ensure that all stakeholders are heard and that a solution that is based on the realities of the needs is identified.
Program Execution
Years of experience in the project execution and program development ensure that your project is executed flawlessly. Teresa is known for her ability to bring teams and ideas together in order to achieve new heights with any project that she manages.  Teresa has managed projects in academic, commercial, and civic settings.
Platform Presentation
Giving an exceptional platform presentation at a conference or event can be a pivotal moment in a professionals career.  Learn the essentials to building a jaw dropping presentation.
Pitch Deck Preparation & Professional Presentations
Perfecting a pitch is key to gaining funding, customers, and company growth.  Teresa has guided startups to define their story, taking notes on the back of a napkin to a deck of slides that have resulted in increased funding and sales.
Science Communication & Technology Translation
As a PhD trained scientist and professional communicator Teresa provides expertise in effective communication of highly scientific and technical concepts to a variety of audiences across a variety of media.
Technical Copywriting & Science Writing
Written communication of technical and scientific concepts is an art.  To ensure that our audience interprets your writing as you intend. Teresa works with you to distill down the message you are trying to deliver in a way that excites the audience about your topic.
Grantsmanship
Grants are the foundation to the growth of many scientific, technical, and entrepreneurial ideas.  Preparing a well written and organized document is key to gaining funding. Teresa has experience with grantsmanship that has resulted in the funding of a variety of projects.
Career Guidance
Teresa has coached hundreds of professionals to see their career goals and entrepreneurial paths attained.  It is her passion to help her clients to define a future that best fits them and to work strategically to attain that future. Please reach out if you wish to have an initial discussion.
Nicole Woitowich, Dir. of Science Outreach and Education, Women's Health Research Institute at Northwestern
"Teresa is an excellent peer mentor and I am lucky to have her in my own 'mentorship council.' She gives thoughtful advice which has helped me tremendously in my own career. "
Julien Matricon, Tech Transfer Officer at Assistance Publique, Hopitaux de Paris
"Teresa is passionate about the common good and dedicated to help others make the best of themselves. I have been impressed by her leadership skills, her will to help and make a difference, and her energy."
Sarika Khanwinkler, Graduate Student, Columbia University
"I came to Teresa as a new resident to San Antonio, with ambitions of networking in a new city and going to graduate school in the field of ecology/wildlife biology, and a draft of my resume. She helped me achieve my goals of acceptance and scholarship into an Ivy League program every step of the way. She refined my CV and once I had identified my top choice (a PhD program at Columbia University) she crafted a strategic communication strategy with my potential PhD advisor. I was never afraid of asking seemingly 'simple' questions about how to conduct myself during this process and felt I could contact Teresa about anything at anytime with timely responses. She also helped me find networking opportunities in San Antonio by connecting me with other professionals and organizations working in the area."
Check out ReSearch
ReSearch: A Career Guide for Scientists is a career planning guide and practical tool for graduate students and postdocs. This book provides step-by-step processes for the assessment of career goals and the actions that can be taken in order to achieve them. ReSearch includes chapters on the basics of career planning, determining unique selling points, and navigating work-life concerns.